Fred Gitner has a 1990s MTA subway poster hanging up in his office that says "No smoking" in about twenty languages.   The poster's multilingual message is an apt reflection of his work as a whole.   Fred is Queens Library's Director for the New Americans Program (NAP) and for International Relations.  The NAP team, currently of six people, is based at the library's large headquarters in Jamaica.  Between them they speak Bengali, Chinese, English, French, German, Hindi and Spanish.
I recently met with Fred to learn more about the NAP, which aims to meet the needs of immigrants in Queens.  While we spoke, my one-year old Conrad roamed around the place, entertaining himself with the office furniture.
NAP began its work in 1977 with funding from a federal grant.  "The library had a huge German collection, which was fine for earlier immigrants," explains Gitner in this article by PaxEthnica author Karl Meyer.  But waves of immigration meant the borough was changing.  NAP was originally funded for three years and focused on three languages: Spanish, Greek and Chinese.  Its immigrant services directory (about which more below) now profiles organizations fluent in around 60 languages.
One of NAP's core activities is to provide books and materials in relevant languages for the communities it serves.  The library usually starts to build up a collection in a particular language when the Queens population that speaks it reaches 3000 or higher.  Sometimes sourcing the material is straight-forward.  Books in Chinese, Spanish and Polish for example are easy to get hold of.  Other languages take more searching.  For example, the library gets its Haitian Creole DVDs from a small store in Queens Village.  The library takes steps to ensure that material it sources is not pirated and does not have inappropriate content.
Handling materials in so many languages poses challenges.  When the library started to create a collection of books from Afghanistan for the Pomonok community library, they purchased books in Dari and Pashto from a local merchant with the assistance of the organization "Women for Afghan Women".  (Women's organizations make great partners!" says Fred).  But the books got mixed up in their boxes.  As no-one on the staff at the time spoke those two languages they had to ask for them to be sent with labels.
NAP works closely with community organizations throughout the borough to match its services up to what the community needs.  They find some of the groups through the Queens Borough President's Immigration Taskforce.  Among them for example are the Adhikaar Nepali organization in Woodside, and an Astoria-based Brazilian organization, Cidadão Global.
NAP also provides lectures and workshops.  From Chinese-language advice on coping with Alzheimer's to immigration guidance in Urdu,  by making relevant information easily accessible the library can make essential interventions in people's lives.  It also distributes details of English-language programs throughout the borough.  And its Directory of Immigrant- serving Agencies enables people to search by criteria like language spoken, services offered, target group and location.
Another major part of NAP's work is organizing cultural programs.  As its Office Associate Madellen García told me, the cultural events are often what bring people to the library and introduce them to one another.  If someone hears a song being performed, it does not matter if it is in a language other than their own, they will be drawn to the music.  Among a pile of colored flyers that I was given while there were details of a Bengali and English story-telling session for children at three different locations, and glass-painting classes in Italian and English in Howard Beach.
Fred Gitner directs the International Relations program as well, which builds links with other libraries to share information, experiences and materials.  Currently Queens Library has cooperation agreements with libraries in Beijing, Shanghai, Cairo, Montréal, Seoul and St. Petersburg.
Fred himself started working with the NAP in 1996.  His career trajectory combined languages and libraries right from the start.  He studied French and German in college.  Soon after finishing graduate school he spotted an ad for a French speaking librarian at the French Institute Alliance Française in Manhattan.  One reason he got the job, he thinks, is that he was the only candidate who submitted his application letter in French.  After many years there, he worked for a while in the multilingual Historical Collections at the Library of the New York Academy of Medicine on Fifth Avenue, before moving to Queens Library.
NAP's work conveys what it really means to live in an area where people speak over 160 languages.   Any language barriers are far less strong than the efforts to communicate through them.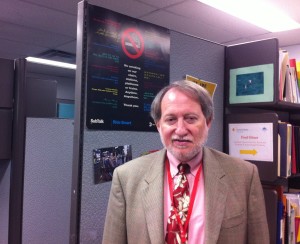 Fred Gitner, Director of the New Americans Program and International Relations at Queens Library