Recently I visited the New Americans Program at Queens Library's headquarters in Jamaica.  The program provides materials and activities to recent immigrants to the borough in the languages they speak – more about it to come shortly.
In the meantime here are two video clips of people who work for Queens Library, saying the equivalent of "I live here" in (Mandarin) Chinese and in Bengali:
Chinese – 我住在这里
Mandarin Chinese is the third most-spoken language in Queens after English and Spanish (and followed by Korean, then Bengali).
and Bengali – আমি এখানে থাকি :
And here are flyers from just a few of the recent programs at the library: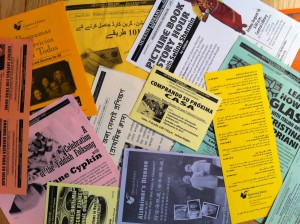 The latest wording for "I live here" added to the page of languages spoken in Queens is Danish: "Jeg bor her".  If you would like to add words or video for another language, please get in touch!