On a walk around 74th Street in Jackson Heights – sometimes referred to as "Little India" – I asked people how "I live here" would be said in some of the South Asian languages.
Punjabi
First stop was Mannat, a bridal store brimming with sequined saris and embroidered sherwanis (robes for men).  The owner wrote down how to say "I live here in Punjabi" – as he remembered it from primary school:

Which phonetically is "Main Ethe Rehnda Ha".  It sounds like this:
Burmese
I recorded Burmese in a cellphone store:

(Kyadaw Hmar Nay Dae)
Tibetan

At Norling Tibet Kitchen restaurant on Roosevelt Avenue there was much debate on the right way to write the equivalent of "I live here" in Tibetan.  Below is the result.  The first line is complex script, the second is simplified, the third is the simplified version again just written in bigger font, and the last line is how it sounds phonetically.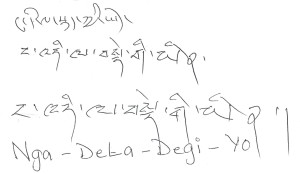 Nepali
Also at the restaurant, I recorded Nepali:

Hindi

In a music and film store the manager and one of his colleagues provided the words and video for Hindi and Gujarati.  Here's Hindi:
मैं यहाँ रहते हैं
Gujarati


(ignore the horizontal lines, which were just from the paper it was written on)
You may have noticed that all the above videos are men speaking.  That's not for a lack of asking women – the men were more willing to be recorded.
There are many other South Asian languages for which I've not yet featured the words for "I live here", in written and video form.  For some, such as Marathi, Tamil and Telugu I have the written words but not video.  For others I'm still looking for both.  Anyone know how to say "I live here" in Kannada, Malayalam or Sinhalese, for example?